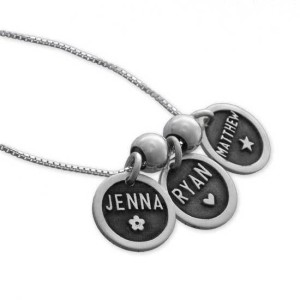 If  you love personalized jewelry & the h and stamped style but are looking for something to st and out, check out our etched name necklaces! H and stamped style paired with bold carved design, our exclusive line of etched necklaces are a popular and beautiful way to show the world what you're passionate about.
These designs feature sterling silver charms etched away to leave a raised design. They are then h and worked to leave a beautiful matte finish.
Our July Necklace of the Month is one of our most popular etched necklaces. We take a sterling silver disc and etch all around the name and symbol areas, leaving the name and symbol raised, and leaving a nice border around the names.  We then patina the whole piece and polish the raised areas so they st and out.
No one else offers this design or look, so you know yours will be truly unique.